: Creative Business
Freeing Writing, Freeing Reading: Zadie Smith In Conversation With Orna Ross
May 19, 2018
Freeing Writing, Freeing Reading: Zadie Smith. World-renowned author, Zadie Smith,  who has said that she owes her "whole life to books and libraries", is to return to NW2 in support of Friends of Cricklewood Library.
And I'm thrilled to have been invited to interview and chair a discussion with her. I'm a huge fan of Zadie's work, her essays as well as her fiction. And the event is in aid of Cricklewood Library, a cause very close to my heart and my home.
Feel Free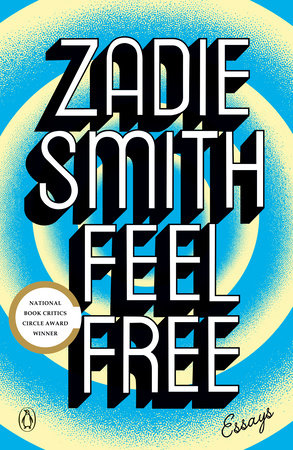 is Zadie's newest book and our theme for the evening is Free to Read, Free To Write. Expect a, yes, freewheeling discussion, that takes in censorship, the gift economy for writers and libraries, digital piracy, the effect of social media on free thought — and most of all what it means to write and read freely.
With our smartphones in our pockets, and our social media accounts, everyone whose literate is a reader and writer now.
How are we managing this growing freedom? What are we reading? What are we writing? And how is it all framed for us online by the platforms and servers we use?
Zadie will be reading from "The North West London Blues", her essay about libraries (yep, she nails why they're about so much more than free books) and we'll have a literary auction and a raffle for a free manuscript evaluation and publication plan, a Q&A and book signing.
It's going to be a great event and it's an important fundraiser for Cricklewood Library. There are ways to join in even if you can't attend on the night — see below for further details.
Cricklewood Library
I've written here before about the sorry story of Cricklewood Library, of which I am a trustee. It's a morality tale around all that is broken in local councils in the UK.
The fundraising continues, as we now need to transform the empty space we've saved (and ceiling, walled and floored) into a vibrant social hub for the community, bringing people together with books and more big ideas.
Zadie has kindly donated her time to this Free To Read, Free To Write event, as part of that fundraising effort.
And I'm hoping you'll support it too by coming along or by getting involved with the literary fundraisers we're running in association with the event.
Why is Cricklewood Library your library?Donate here: https://www.spacehive.com/cricklewood-library

Geplaatst door Friends of Cricklewood Library op Woensdag 21 juni 2017
EVENT
Mon 25 Jun 2018 7:30 pm – 9:30 pm

 The Sala Room, The Crown Hotel, Cricklewood Broadway, NW2 3ED. Also online.
Also Available Online
In keeping with the freedom theme of the event, we're unleashing it from the venue. We intend to record the night making it available here on this website and other outlets.
You can also contribute from afar by taking part in the associated literary lottery or by donating some books or literary gift to our auction.
A Literary Lottery
Are you an author or aspiring author? Our Literary Lottery provides a way for writers and aspiring writers to support the event, even if you can't be there on the night.
Here's how that works:
Buy A Ticket, either for the lottery alone or joint lottery-plus-event ticket.
Submit the first chapter of your novel with ticket reference number to sarah@ornaross.com.
One entry will be chosen at random to receive a full reading of the associated manuscript, together with a professional manuscript evaluation (for an aspiring author) or developmental edit (for a published author), together with publishing advice from me.
This can be availed of up to one year following the lottery closing date, 25th May 2018.
Freeing Writing, Freeing Reading: Zadie Smith: Literary Auction
We are also asking writers, publishers, and publishing services to donate books, readers, and other literary gifts for a Literary Auction.
You can bid for these in the room, on the night, or online. More details soon. 
TICKETING
The event is on Monday 25th June 2018, 7.30pm.
If you're in or near London, do come along and tell your bookworm friends. We have 120 tickets in total. First come, first served… and already selling briskly.
Free to Read, Free To Write: Zadie Smith. Standard Ticket:
If you can't make it, do you have a loved one in London who likes to read? They'd appreciate this great gift, which includes the reading, Q&A and book signing. (There are also other options for those who can't make it on the night–see below).
Tickets for the event are £15: available here
Free to Read, Free To Write: Zadie Smith. Ticket Plus Signed Book:
In addition to the event, you also get a signed copy of a Zadie Smith title.
And event-plus-book (20 only) ticket costs £25: available here.
Free to Read, Free To Write: Zadie Smith. Literary Lottery Ticket for Any Writer, Anywhere:
Buy your ticket and when you have your ticket ref. number submit it, along with the first chapter of your novel, to sarah@ornaross.com.
A Literary Lottery Ticket costs £15, available here.
Free to Read, Free To Write: Zadie Smith. Literary Lottery Ticket for Eventgoers:
Of course, you can also enter for this prize if you are attending on the night.
A joint literary lottery and event ticket costs £30, available here.
Free to Read, Free To Write: Zadie Smith. Literary Auction On The Night & Online:
We will be doing a literary auction on the night, while the book signing is going on.
If you have anything you would like to donate to our auction, please let Sarah know: sarah@ornaross.com